Proposals for the future planning of Hoi Ha
Executive Summary
On 28 June 2013, The Planning Department (PlanD) published its Draft Outline Zoning Plan (OZP) for
Hoi Ha. Unfortunately many of the statements made in the Draft OZP do not match with the data
collected by The Professional Commons members during their studies of the area dating back nearly
twenty years, and especially with the results of an intense two year study that has just been
completed as part of a report on the integration of Country Park enclaves. This booklet is a short
form version of a far longer and detailed report submitted to PLanD in response to the Draft OZP. A
copy of this full report is available on request from Professional Commons, as shown below.
Our recommendations can be summarised as:
 All areas of the Development Permission Area (the status of the enclave before an OZP is
gazetted), except that zoned for the village and its expansion, be designated as Country Park:
 That the current village and the suggested village expansion area be subject to further
planning restrictions relating to environmental impact when applications for improvement and
development are made, possibly similar to a Comprehensive Development Area (CDA);
 That villager owned land in the centre of the village be swapped for land in the extended
village zone so that co-ordinated and properly planned improvement of village facilities can be
made.
The Professional Commons supports the proposal, backed by many other policy and environmental
group in Hong Kong, that all enclaves be integrated in the Country Park, whilst allowing for
legitimate expansion of the village areas whilst following strict environmental safeguards and proper
planning. The Draft OZP as published by PlanD keeps the enclave and divides it into a number of
separate planning zones, with little or no coordination between them. It also allows developers, who
own, or control, the majority of the available land, to build many houses, especially on the most
ecologically sensitive land. This is unacceptable.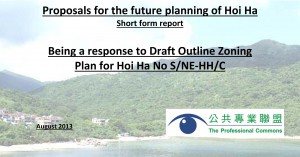 Please click on the pdf icon for the "Short form report(Low-Resolution) of Proposals for the future planning of Hoi Ha"

Please click on the pdf icon for the "Short form report(High-Resolution) of Proposals for the future planning of Hoi Ha"

Please click on the pdf icon for the "Full submission to Planning Department" of Proposals for the future planning of Hoi Ha"