"Comparing visions, comparing platforms" merits greater attention as election campaign of the Chief Executive has moved to a new phase. As the nomination of three runners have been ruled valid and their election platforms have been publicized, it is now the duties of all Election Committee Members and members of the public to thoroughly examine these candidates as well as their platforms, therefore making the right choice that meets most of their requirements.
Notwithstanding that "small-circle election" deprives most ordinary citizens of their right to vote, they still have the right to at least be concerned of the "race" and have say on pros and cons of different election platforms. Based on faith "participation" and "education" as effective in fostering democracy and more specifically universal suffrage, The Professional Commons is committed to boosting the election to a new standard through the following measures:
• Establishment of a website namely "Comparison of Platforms of CE Candidates" (click this link to the website), for easy access and reference of the three platforms;
• Platforms of three candidates are to be listed out in tabular form for easy reference;
Visions (click on this link for the comparison table)
Policy Agenda (click on this link for the comparison table)
Policy Measures (click on this link for the comparison table)
• Our "Chief Executive Mock Platform" is regarded as a reference for a more vivid illustration of pros and cons of the other three platforms
For the full text of our "Chief Executive Mock Platform", please click at this link
"Chief Executive Mock Election Platform" by The Professional Commons: An Overview

To ensure the CE election held every 5 years could run in a proper and decent way, The Professional Commons released in October last year a prototype document "Chief Executive Mock Election Platform" (hereafter "Mock Platform") in a bid to bring its exemplary role into play. By doing so, it is anticipated to convey an important message that all candidates should be committed to presenting to the public, for the sake of the betterment of future, an election platform with broad visions and accountability to public need.
Against this background, the Mock Platform aims to provide an exemplar, indicating that an election platform should consist of three major components. First, "visions" represent candidates' general belief and missions in governance plus ideas about future prospect of Hong Kong. Second, "policy agendas" is what highlights direction and agendas of various policy areas under the guidance of visions. Last but not least, "policy measures" turn visions into actions, therefore the most objective means to reflect candidates' sincerity and determination in fulfilling their promises. Without any of these crucial parts, an election platform could by no means a holistic and practical one.
Further, despite the fact that Mock Platform comprises three broad visions, 12 policy agendas as well as a hundred or more policy measures, it is still far from comprehensive, as far as its exemplary role is concerned. Instead, it is indispensable of all candidates to put forward their views and strategies in tackling various policy issues and problems.
Comparison of CE Election Platforms: The Rules
1. Together with our Mock Platform, main contents of Albert Ho, CY Leung and Henry Tang's election platforms will be presented in tabular form, which are all available on election campaign websites of the three candidates respectively.
2. Comparison of election platforms has been undertaken in following areas: (1) Visions; (2) Policy Agendas and (3) Policy Measures.
3. Individual candidates do not have a designate chapter on his "visions" in their platforms, or just have it subsumed under individual policy agendas. For convenience of comparison, we have extracted relevant content from the main text of their election platforms and put them into appropriate position regarded as policy agenda. Visions suggested by Albert Ho are not the excerpt from the main text of his election platform but another document namely "Issues".
4. It is subject to representation of different candidates concerning policy agendas. Candidates who have highlighted their visions intends to put policy agendas under the heading "visions", while policy agendas of other candidates without a clear presentation of their visions have been listed at the top heading of concerned table.
5. Policy measures have been classified into typical categories including political, economic and social, under which further details on specific policy aspects have been mentioned.
For the details of the Comparisons of CE Election Platforms, please go to the website: http://www.ceplatform2012.hk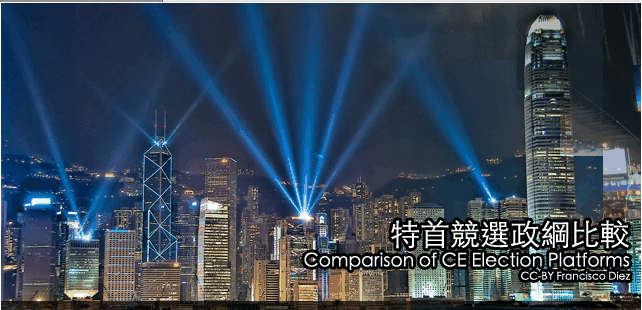 Tags: